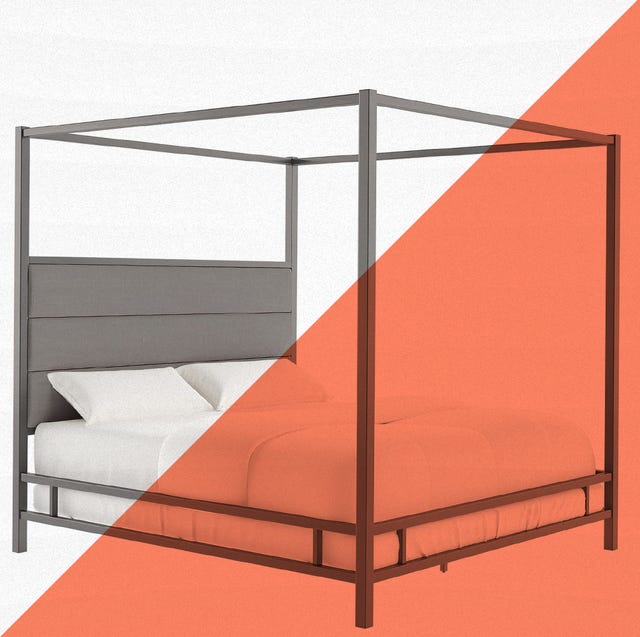 Staff, Courtesy of Kingstown Home
As the centerpiece of a bedroom, a bed frame can seriously upgrade your room's aesthetic. "Think about the frame as your décor piece, your base to decorate the rest of the bed," advises Hillary Levy, an interior designer at the New York-based company Lisa Kaye Designs. "You want something that won't overtake the space and look heavy."
Beyond its looks, a bed frame can also offer additional storage space, either through high underbed clearance or built-in drawers. To help your search, we've created a guide of the important factors to consider when selecting a bed frame, as well as 10 options to consider based on varying aesthetics, materials, and heights.
How to Choose the Right Bed Frame
Height
The height of your bed frame can make a significant difference to the overall feeling of the room. "A rule of thumb I like to go by is the smaller the room, the lower the frame," Levy says. For instance, a bed frame that is lower to the floor will trick the eye into thinking the room is bigger than it is, she explains. On the other hand, a tall bed in a small room will feel cramped and small. If the space is small, Levy recommends choosing a platform frame. If it's a larger space, consider a taller bed frame or a box spring to raise the height of the mattress. Keep in mind that a taller height may also provide more under-bed clearance for practical storage purposes as well.
Material
The two main material options will be wood and metal, though some may also be upholstered with fabric or leather. This is a matter of personal preference and should be chosen based on the décor in the room. Levy suggests a light-colored wood, adding that it lends itself to a warm yet open space.
Aesthetics
When it comes to aesthetics, consider the headboard and how that will add to the overall design of the room. Some bed frames come with an attached headboard while others are freestanding with the option to add one. You'll also want to consider how the bed frame fits into the overall space in the room. Levy says you'll want two to three feet on both sides and the front of the bed so that you can move freely around the room. Keep in mind that a headboard may add several inches to the frame.
How We Selected
To create this guide, we spoke with Hillary Levy, an interior designer at the New York-based company Lisa Kaye Designs and Stacy Lewis, interior designer at Eternity Modern, a California-based Mid-Century Modern Furniture store. Kaye, who has over 25 years of experience in interior designs for residential homes, outlined what factors to consider when choosing a bed frame, including height, material, and aesthetics, and shared her top recommendations. We evaluated bed frames constructed from different materials and of varying heights to suit the style and needs of anyone's bedroom, such as bedroom size and storage options. As a last measure, we considered the customer reviews of top-rated bed frames related to quality and long-term use on retail sites such as Wayfair and Amazon.
Upholstered Headboard
Mercer41 Boswell Full Tufted Upholstered Low Profile Platform Bed
Mercer41
wayfair.com
$189.87
Key Specs
Material: Wood and linen upholstery

Height From Floor: 6 in.

Size Options: Full, queen, king
"A nice upholstered headboard adds a bit of modern elegance to any room," Levy says. She recommends the Boswell Platform bed as a great option that also comes in a selection of colors. The upholstery is made from polyester faux linen, and the bed frame is available in black, light beige, brown, burgundy, and grey. This platform bed does not require a box spring thanks to its wooden slats that are three inches apart. While you might prefer the low-profile look, keep in mind that its under-bed clearance is only four inches.
Affordable
Many color and size options
Some reviewers complained the color varied from the photos
Versatile Frame
Wade Logan Black Avel Upholstered Platform Bed
Wade Logan
wayfair.com
$203.33
Key Specs 
Material: Wood, fabric, polyester 
Height From Floor: 3 in.
Size Options: Full, queen, king
For an upholstered option that isn't tufted, Levy recommends a minimalist frame like this one. She adds that a simple and modern frame is a versatile choice that can fit a variety of rooms. This option also features a rubber lock design that ensures the slats and your mattress remain fixed into place and noise-free. You can choose between black, dark grey, and light grey. 
Elegant, minimalist style
Affordable
Fabric quality may be on the lower end
Minimalist Frame
Winston Porter Karlsefni Platform Bed
Winston Porter
wayfair.com
$154.55
Key Specs
Material: Metal

Height From Floor: 13 in.

Size Options: King
Levy recommends the Karlsefni Platform bed as a perfect choice for a smaller space. The design is very light and will not dominate the room, she says. At the same time, the 13 inches under the bed will give you plenty of extra storage space that may come in handy for a more compact bedroom.
Minimalist design
High under-bed clearance
Some reviewers said the bed was squeaky
Built-In Storage
Allewie Platform Bed Frame With 4 Storage Drawers
Allewie
amazon.com
$234.99
Key Specs
Material: Steel, upholstered in linen fabric

Height From Floor: 11.8 in.

Size Options: Queen
The Allewie bed frame comes with four sliding drawers, two on both sides. This built-in storage makes it an ideal choice for people with smaller rooms, according to Lewis. "It has a minimalistic but lavish and modern look, brought by upholstered linen fabric in square-stitched and button-tufted design, but is sturdy enough to hold multiple people," she says.
Extra storage space
Adjustable headboard
Some reviewers found it difficult to assemble
Simple Assembly
Zinus Van 16 Inch Metal Platform Bed Frame
Zinus
amazon.com
$180.00
$155.39 (14% off)
Key Specs
Material: Metal

Height From Floor: 14, 16, or 18 in.

Size Options: Twin, full, queen, king
The Zinus Van Metal platform bed is a practical and affordable bed frame, built with sturdy alloy steel that's easy to assemble. It also comes in different height options, including 14-, 16-, and 18-inch under-bed clearances. If you're looking for a bare-bones bed frame that's easy to set up and offers plenty of storage room, this is a perfect choice.
Easy to assemble
High under-bed clearance
Affordable
May be hard to utilize all the under-bed space without drawers
Best Wooden Bed Frame
Zinus Alexia Wood Platform Bed Frame
Key Specs
Material: Wood
Height From Floor: 12 in.
Size Options: Twin, full, queen, king
A wooden bed frame like the Zinus Alexia can give your space a calm and natural aesthetic. You can choose to add a headboard or opt for the more minimalist look with just the frame. It's available in four different colors of wood: rustic pine, antique espresso, cherry, and natural.
Optional headboard
Several wood finish options
The headboard adds about $150
Best Versatile Storage
South Shore Flexible Storage Platform Bed
South Shore
wayfair.com
$389.99
Key Specs
Material: Manufactured wood

Height From Floor: 13 in.

Size Options: Full, queen, king
This bed frame doubles as storage for items you want to be easily accessible. You can purchase boxes to fill the compartments or use them to store items you use daily to keep them tidy, but still easy to reach. However, while most reviews for this bed are positive, a few reviewers mentioned poor construction, and that pieces of the wood chipped shortly after purchase.
Easy, flexible storage compartments
Some reviewers reported wood chipping over time
No headboard options
Elegant Canopy Bed
Kingstown Home Bartlby Storage Canopy Bed
Kingstown Home
wayfair.com
$891.66
Key Specs
Material: Metal

Height From Floor: 6 in.

Size Options: Queen
If your bedroom is more spacious, and you're looking for an interesting frame that can give your room some character, consider a canopy bed. The canopy will give structure to your bedroom and create a visually interesting composition. Plus, you can experiment with hanging different fabrics over the bed. This model is one of the more sturdy metal options for canopy beds, and it's available in black, chrome, or gold.
Elegant design and sturdy construction
Built-in upholstered headboard
Space-Saving Bed Frame
South Shore Reevo 3 Drawer Mate's & Captain's Bed with Bookcase
South Shore
wayfair.com
$509.99
Key Specs
Material: Wood

Height From Floor: 14 in.

Size Options: Twin, full
The Reevo 3 Draw bed frame is perfect if you do not have enough space in your room for nightstands and want a place to keep a few items by your bed. The headboard comes with a built-in bookcase that you can use to keep an alarm clock, a mug of tea or diary, and a few favorite books. It also features three drawers on one side, which is ideal if you plan to keep your bed against a wall. Though this frame is available only in twin and full size, the bookcase and drawers makes it a great choice for a kids' room.
Only available in twin and full size
Luxurious Sleigh Bed
Laurel Foundry Modern Farmhouse Draven Tufted Upholstered Sleigh Bed
Laurel Foundry Modern Farmhouse
wayfair.com
$1,269.99
Key Specs
Materials: Wood and 100 polyester upholstery

Height From Floor: 9.25 in.

Size Options: Queen, king, California king
If you're looking for an elegant bed frame that will last you decades, consider the Draven Tufted Upholstered Sleigh bed frame. The tufted headboard is elegant and covered with foam-filled polyester, which gives the frame a plush and luxurious feel that's also comfortable to lean against when you watch TV or read. In addition, the frame comes with a bunkie board—think of it like a thinner version of a box spring—to rest your mattress if you choose not to use a box spring.
Elegant construction built to last
This content is created and maintained by a third party, and imported onto this page to help users provide their email addresses. You may be able to find more information about this and similar content at piano.io